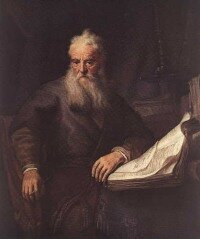 The Pauline Epistles are as follows:
Romans
1 Corinthians
2 Corinthians
Galatians
Ephesians
Philippians
Colossians
1 Thessalonians
2 Thessalonians
1 Timothy
2 Timothy
Titus
Philemon


The Epistle to the Romans
The Epistle to the Romans is one of the letters of the New Testament canon of the Christian Bible. When it is clear that the Bible is being discussed, it is often referred to as simply "Romans". Romans is one of the seven currently (as of 2004) undisputed letters of Paul and even among the four letters accepted as authentically his (in German scholarship, the Hauptbriefe) by F. C. Baur and the Tübingen School of historical criticism of texts in the 19th century.
History
It was probably written at Corinth or possibly in nearby Cenchrea, transcribed by Tertius. Phoebe (Romans 16:1) of Cenchrea, the Aegean port of Corinth, conveyed it to Rome, and Gaius of Corinth entertained the apostle Paul at the time of his writing it (Romans 16:23; 1 Cor 1:14), and Erastus was chamberlain of the city, that is, of Corinth (2 Tim 4:20).
The precise time at which it was written is not mentioned in the epistle, but it was obviously written when the collection for Jerusalem had been assembled and Paul was about to "go unto Jerusalem to minister unto the saints", that is, at the close of his second visit to Greece, during the winter preceding his last visit to that city (Rom. 15:25; cf. Acts 19:21; 20:2, 3, 16; 1 Cor 16:1–4) early in 58.
More...