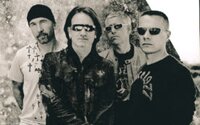 U2 is an Irish rock band formed in Dublin, whose members are
Christians
. The band features
Bono
(Paul David Hewson) on vocals, rhythm guitar and harmonica; The Edge (David Howell Evans) on lead guitar, keyboards and backing vocals; Adam Clayton on bass guitar; and Larry Mullen, Jr. on drums and occasional backing vocals.
Formed in 1976, U2 has consistently remained among the most popular acts in the world since the mid 1980s.
@U2 Links
Recent U2 News PodCast Forum U2 Calendar
The band has sold approximately 50.5 million albums in the U.S., according to the RIAA, and upwards of 170 million worldwide, has had six #1 albums in the US and nine #1 albums in the UK and is one of the most successful bands of the rock era. The band has won 22 Grammy awards, more than any other recording artist.
The band is also politically active in human rights causes, such as the Make Poverty History campaign as well as Live Aid, Live 8, One.org, and Bono's DATA (Debt, AIDS, Trade in Africa) campaign.
More...