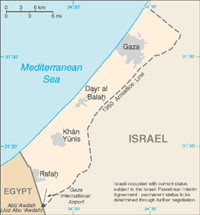 Gaza is the largest city within the Gaza Strip, part of the Palestinian Territories. The city, which has a population of approximately 400,000, is frequently termed "Gaza City" in order to distinguish it from the larger Gaza Strip.
History
40 So Joshua subdued the whole region, including the hill country, the Negev, the western foothills and the mountain slopes, together with all their kings. He left no survivors. He totally destroyed all who breathed, just as the LORD, the God of Israel, had commanded. 41 Joshua subdued them from Kadesh Barnea to Gaza and from the whole region of Goshen to Gibeon. 42 All these kings and their lands Joshua conquered in one campaign, because the LORD, the God of Israel, fought for Israel. -Joshua 10:40-42
Strategically located on the Mediterranean coastal route, ancient Gaza was a prosperous trade center and a stop on the caravan route between Egypt and Syria. The city was occupied by Egypt around the 15th century BCE.
More...