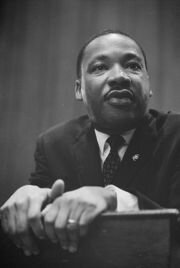 Martin Luther King, Jr. (January 15, 1929–April 4, 1968) was a Baptist minister and American political activist who was the most famous leader of the American civil rights movement. King won the Nobel Peace Prize before being assassinated in 1968. In 1977, King was posthumously awarded the Presidential Medal of Freedom, by Jimmy Carter. For his promotion of non-violence and racial equality, King is considered a peacemaker and martyr by many people around the world. Martin Luther King Day was established in his honor.
King was born in Atlanta, Georgia (on Auburn Avenue) to the Rev. Martin Luther King, Sr. and Alberta Williams King. (Birth records for Martin Luther King Jr. list his first name as Michael, apparently due to some confusion on the part of the family doctor regarding the true name of King's father, who was known as Mike throughout his childhood.) He graduated from Morehouse College with a Bachelor of Arts degree in Sociology in 1948. At Morehouse, King was mentored by President Benjamin Mays, a civil rights leader.
Later he graduated from Crozer Theological Seminary in Chester, Pennsylvania with a Bachelor of Divinity degree in 1951. In 1955 he received his Ph.D. in Systematic Theology from Boston University.