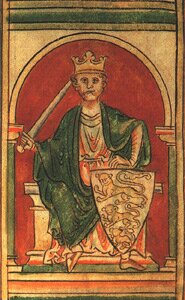 Richard I (September 8, 1157 – April 6, 1199) was King of England from 1189 to 1199. In his own time, the troubadour Bertran de Born called him Oc-e-Non (Yes-and-No), while some later writers referred to him as Richard the Lionheart, Cœur de Lion, as he is still known in France.
Family
The third of King Henry II's legitimate sons, Richard was never expected to ascend to the throne. He is generally considered to have been the favourite son of his mother, Eleanor of Aquitaine. Richard was a younger maternal half-brother of Marie de Champagne and Alix of France. He was a younger brother of William, Count of Poitiers, Henry the Young King and Matilda of England. He was also an older brother of Geoffrey II, Duke of Brittany, Leonora of England, Joan Plantagenet and John Lackland of England.
Early life
Although born at Beaumont Palace, Oxford, England, like most of the Royal Family at the time he was, for all intents and purposes, French.