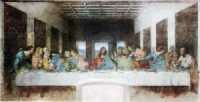 Passover (Hebrew: פסח; transliterated as Pesach or Pesah), also called חג המצות (Chag HaMatzot - Festival of Matzot) is a Jewish holiday beginning on the 15th day of Nisan, which falls in the early spring and commemorates the Exodus and freedom of the Israelites from ancient Egypt. Passover marks the "birth" of the Jewish nation, as the Jews were freed from being slaves of Pharaoh and allowed to become servants of God instead.
In most languages of Christian societies, other than English, German and some Slavic languages, the holiday's name is derived from Pesach, the Hebrew name of Passover, a Jewish holiday to which the Christian Easter is intimately linked.
Together with Sukkot and Shavuot, Passover is one of the three pilgrim festivals (Shalosh Regalim) during which the entire Jewish populace made a pilgrimage to Jerusalem in the days of the Holy Temple.
In Israel, Passover is a 7-day holiday, with the first and last days celebrated as a full festival (involving abstention from work, special prayer services and holiday meals). Outside Israel, the holiday is celebrated for 8 days, with the first two days and last two days celebrated as full festivals. The intervening days are known as Chol HaMoed (festival weekdays).
more...