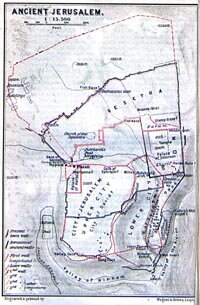 The holiest city of Judaism (since the 10th century BCE) and some denominations of Christianity (since the 5th century CE) is the city of Jerusalem.
A heterogeneous city, Jerusalem represents a wide range of national, religious, and socioeconomic groups. The section called the "Old City" is surrounded by walls and consists of four quarters: Armenian, Christian, Jewish, and Muslim.
37 "O Jerusalem, Jerusalem, you who kill the prophets and stone those sent to you, how often I have longed to gather your children together, as a hen gathers her chicks under her wings, but you were not willing. 38 Look, your house is left to you desolate. 39 For I tell you, you will not see me again until you say, Blessed is he who comes in the name of the Lord."
—Matthew 23:37-39
Jerusalem has long been embedded into the religious consciousness of the Jewish people. Jews have always studied and personalized the struggle by King David to capture Jerusalem and his desire to build the Jewish temple there, as described in the Book of Samuel and the Book of Psalms. Many of King David's yearnings about Jerusalem have been adapted into popular prayers and
songs
.
יְהוֹשׁוּעַ
Yĕhowshuwa` Joshua or Jehoshua = "Jehovah is salvation" (A Hebrew name for Jesus, contracted in Aramaic to Yeshua. Variant spellings יהושוע and יהושע
—Matthew 23:37-39
The status of the united Jerusalem as Israel's capital is not widely recognized by the international community, and Israel's annexation of East Jerusalem is particularly controversial.
Only two countries have embassies in Jerusalem — Costa Rica and El Salvador. Of the 184 nations with which America has diplomatic relations, Israel is the only one where the United States does not recognize the capital or have its embassy located in that city. The U.S. embassy, like most others, is in Tel Aviv, 40 miles from Jerusalem. The United States maintains a consulate in east Jerusalem that deals with Palestinians in the territories and works independently of the embassy, reporting directly to Washington. While Congress has voted to recognize Jerusalem as Israel's capital, successive Presidents, the final arbiters of the nation's foreign policy, have refused to do so.[1]
More...