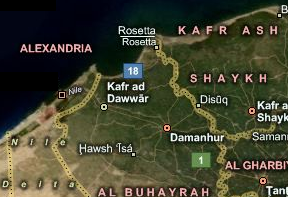 Alexandria (Greek: Αλεξάνδρεια), (population of 3.5 to 5 million), is the second-largest city in Egypt, and its largest seaport. Alexandria extends about 20 miles (32 km) along the coast of the Mediterranean sea in the northwest of Egypt. It is home to the Bibliotheca Alexandrina, the New Library of Alexandria, and is an important industrial centre because of its natural gas and oil pipelines from Suez.
In ancient times, the city was known for the Lighthouse of Alexandria (one of the Seven Wonders of the Ancient World) and the Library of Alexandria (the largest library in the ancient world). Ongoing maritime archaeology in the harbour of Alexandria (which began in 1994) is revealing details of Alexandria both before the arrival of Alexander, when a city named Rhakotis existed there, and during the Ptolemaic dynasty.
The city of Alexandria was named after its founder, Alexander the Great and as the seat of the Ptolemaic rulers of Egypt, quickly became one of the greatest cities of the Hellenistic civilization — second only to Rome in size and wealth.
However, upon the founding of Cairo by Egypt's mediæval Islamic rulers, its status as the country's capital ended, and fell into a long decline, which by the late Ottoman period, had seen it reduced to little more than a small fishing village. The current city is Egypt's leading port, a commercial and transportation center, and the heart of a major industrial area where refined petroleum, asphalt, cotton textiles, processed food, paper, and plastics are produced.
More...