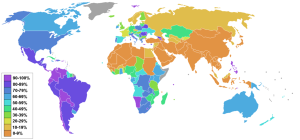 Christianity is a monotheistic religion centered on the life, teachings, and actions of Jesus, the Christ, as recounted in the New Testament.
With an estimated 2.1 billion adherents, Christianity is the world's largest religion. Its origins are intertwined with Judaism, with which it shares much sacred text and early history; specifically, it shares the Hebrew Bible, known in the Christian context as the Old Testament. Christianity is considered an Abrahamic religion, along with Judaism.
In the Christian scriptures, the name "Christian" (thus "Christianity") is first attested in Acts 11:26: "For a whole year they met with the church and taught a great many people.
And in Antioch Jesus' disciples were first called Christians" (Greek χριστιανους, from Christ Greek Χριστός, which means "the anointed").
Within Christianity, numerous distinct groups have developed, with diverse beliefs that vary widely by culture and place. Since the Reformation, Christianity is usually represented as being divided into three main branches:
More...