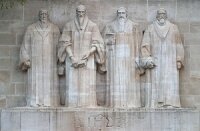 Theodore Beza (Theodore de Beze or de Besze) (June 24, 1519 - October 13, 1605) was a French Protestant Christian theologian and scholar who played an important role in the early Reformation. He was a disciple of John Calvin and lived most of his life in Switzerland.
Early life
Theodore Beza was born at Vezelay (8 miles west-south-west of Avallon), in Burgundy.
His father, Pierre de Beze, royal governor of Vezelay, descended from a Burgundian family of distinction; his mother, Marie Bourdelot, was known for her generosity. Pierre de Beze had two brothers; Nicholas, who was member of Parliament at Paris; and Claude, who was abbot of the Cistercian monastery Froimont in the diocese of Beauvais. Nicholas, who was unmarried, during a visit to Vezelay was so pleased with Theodore that, with the permission of their parents, he took him to Paris to educate him there. From Paris, Theodore was sent to Orleans in December 1528 to enjoy the instruction of the famous German teacher Melchior Wolmar. He was received into Wolmar's house, and the day on which this took place was afterward celebrated as a second birthday.
More...