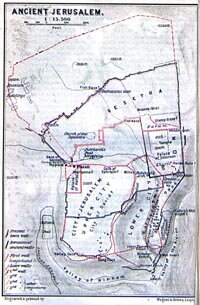 Jerusalem is the holiest city of Judaism (since the 10th century BCE) and some denominations of Christianity (since the 5th century CE) and, after Mecca and Medina, the third holiest city of Islam
A heterogeneous city, Jerusalem represents a wide range of national, religious, and socioeconomic groups. The section called the "Old City" is surrounded by walls and consists of four quarters: Armenian, Christian, Jewish, and Muslim.
37 "O Jerusalem, Jerusalem, you who kill the prophets and stone those sent to you, how often I have longed to gather your children together, as a hen gathers her chicks under her wings, but you were not willing. 38 Look, your house is left to you desolate. 39 For I tell you, you will not see me again until you say, Blessed is he who comes in the name of the Lord.—Jesus, Matthew 23:37-39

More...