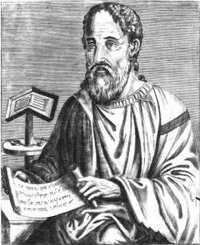 Eusebius of Caesarea (c. 275 – May 30, 339) (often called Eusebius Pamphili, "Eusebius [the friend] of Pamphilus") was a bishop of Caesarea in Palestine and is often referred to as the father of church history because of his work in recording the history of the early Christian church. An earlier history by Hegesippus that he referred to has not survived.
Biography
His exact date and place of birth are unknown, and little is known of his youth. He became acquainted with the presbyter Dorotheus in Antioch and probably received exegetical instruction from him. In 296 he was in Palestine and saw Constantine who visited the country with Diocletian.
He was in Caesarea when Agapius was bishop and became friendly with Pamphilus of Caesarea, with whom he seems to have studied the text of the Bible, with the aid of Origen's Hexapla and commentaries collected by Pamphilus, in an attempt to prepare a correct version.
More...