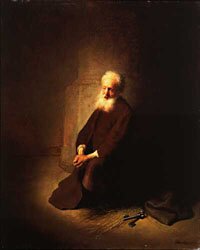 Saint Peter, also known as Simon ben Jonah/BarJonah, Simon Peter, Cephas and Kepha - original name Simon or Simeon (Acts 15:14) - was one of the Twelve Apostles whom Jesus chose as his original disciples. His life is prominently featured in the New Testament Gospels and the Acts of the Apostles. A Galilean fisherman, he (with his brother Andrew)
was literally "called" by Jesus to be a disciple. Above all the other disciples, Peter was assigned a leadership role by Jesus (Matt 16:18; John 21:15–16); and many within the early Church, such as St Clement of Rome and St Irenaeus (Adversus Haereses 3:3:20), mention his primacy.
The ancient Christian Churches, Roman Catholic, Eastern Orthodox and Oriental Orthodox, consider Simon Peter a saint and associate him with the foundation of the Church in Rome

,
even if they differ on the significance of this for the position of the see of Rome and of the Pope in present-day Christianity.
More...