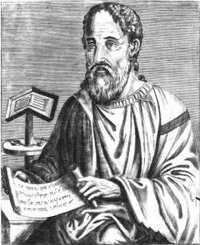 Eusebius of Caesarea (c. 275 – May 30, 339) (often called Eusebius Pamphili, "Eusebius [the friend] of Pamphilus") was a bishop of Caesarea in Palestine and is often referred to as the father of church history because of his work in recording the history of the early Christian church. An earlier history by Hegesippus that he referred to has not survived.
His exact date and place of birth are unknown, and little is known of his youth. He became acquainted with the presbyter Dorotheus in Antioch and probably received exegetical instruction from him. In 296 he was in Palestine and saw Constantine who visited the country with Diocletian.
He was in Caesarea when Agapius was bishop and became friendly with Pamphilus of Caesarea, with whom he seems to have studied the text of the Bible, with the aid of Origen's Hexapla and commentaries collected by Pamphilus, in an attempt to prepare a correct version.
In 307, Pamphilus was imprisoned, but Eusebius continued their project. The resulting defence of Origen, in which they had collaborated, was finished by Eusebius after the death of Pamphilus and sent to the martyrs in the mines of Phaeno in Egypt. Eusebius then seems to have gone to Tyre and later to Egypt, where he first suffered persecution.
Eusebius is next heard of as bishop of Caesarea Palaestina. He succeeded Agapius, whose time of office is not known, but Eusebius must have become bishop soon after 313. Nothing is known about the early years of his tenure. When the Council of Nicaea met in 325, Eusebius was prominent in its transactions. He was not naturally a spiritual leader or theologian, but as a very learned man and a famous author who enjoyed the special favour of the emperor, he came to the fore among the 300 members of the council. The confession which he proposed became the basis of the
Nicene Creed
.
More...