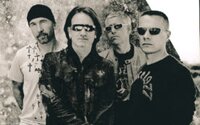 U2 is an Irish rock band formed in Dublin, whose members are Christians. The band features Bono (Paul David Hewson) on vocals, rhythm guitar and harmonica; The Edge (David Howell Evans) on lead guitar, keyboards and backing vocals; Adam Clayton on bass guitar; and Larry Mullen, Jr. on drums and occasional backing vocals.
"We've found different ways of expressing it, and recognized the power of the media to manipulate such signs. Maybe we just have to sort of draw our fish in the sand. It's there for people who are interested. It shouldn't be there for people who aren't."
-Bono, quoted from "U2 at the End of the World"