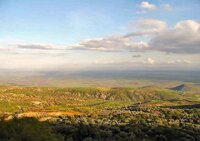 Antioch on the Orontes (Greek: Αντιόχεια η επί Δάφνη, Αντιόχεια ή επί Ορόντου or Αντιόχεια η Μεγάλη; Latin: Antiochia ad Orontem, also Antiochia dei Siri), the Great Antioch or Syrian Antioch was an ancient city located on the eastern side (left bank) of the Orontes River about 30 km from the sea and its port, Seleucia of Pieria (Suedia, now Samandagi). The city's ruins are located in Antakya, Turkey.
Founded near the end of the 4th century BC by Seleucus I Nicator, one of Alexander the Great's generals, Antioch was destined to rival Alexandria as the chief city of the nearer East and to be the cradle of gentile Christianity.
More...

The geographical character of the district north and north-east of the elbow of Orontes makes it the natural centre of Syria, so long as that country is held by a western power; and only Asiatic, and especially Arab, dynasties have neglected it for the oasis of Damascus.