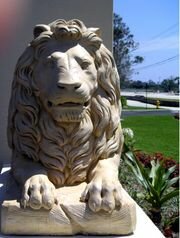 The Tribe of Judah (hebrew: יְהוּדָה, "praise";) is one of the Hebrew tribes of Israel, founded by Judah, son of Jacob. (see also sons of Jacob)
Together with the Tribe of Benjamin, descendants of Judah eventually formed the southern kingdom of Judah in the ancient land of Israel, when the kingdom of Israel was divided. These two tribes were thus not carried into captivity with the ten tribes of the northern kingdom of Israel when it fell. This started the tradition (some say myth) of the ten lost tribes of Israel.
As the Tribe of Benjamin was always very much the minor partner, in time the tribe of Judah became identified with the entire Israelite nation, and even the entire Hebrew nation, and gave their name to the Jews.